His name is Olubukola Adetula, but you can call him "Bukie". That's what everyone calls him. A marverick lawyer, he runs a general practice in criminal, personal injury and immigration law in East Orange, New Jersey.
Sola Osofisan: Let's talk about success. Do you think there is a difference between success in Nigeria and success here in America?
Bukie Adetula: I think for you to be able to compare success in both countries, you have to look at what the definition of success is.
Sola Osofisan: So what's your definition of success?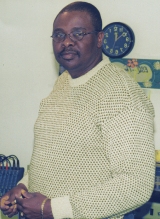 Bukie Adetula: My definition of success is a career, a business, a profession where you're enjoying doing what you're doing… You're a family man, happily married with children, a happy home environment… Some of the essentials in life are readily available to you, basic transportation –
Sola Osofisan: You have just described yourself.
Bukie Adetula: I think I'm successful. I think I have success. I think I have been blessed with success. We need to distinguish it, yes, from success in Nigeria, because here, some of the things that I think come with being successful… a lot of those things are not available in Nigeria. Being able to pick up your telephone and conduct business, being able to make phone calls, being able to move money from one account to another when you need to, being able to walk into a bank and say 'look, I have this little project – here's who I am – here's what I've been able to achieve. I need some money to back me up.' Being able to do that in a matter of 20 minutes – 25 minutes.
Those are all the things that help make you successful. You can sit back as a lot of people do in Nigeria and say 'I have 50 million Naira in one bank account and then I have 120 million Naira in another one and I'm waiting on a 200 million Naira contract from Abuja and Lagos State government owes me 50 million Naira… Success is not about money. You could be successful and not have money and that's the mistake people make.
Sola Osofisan: When did you come to America?
Bukie Adetula: January 1979, on a very wintry day. I arrived in a double-breasted suit with no jacket, no coat, into Buffalo, NY. Saw snow for the first time. Freezing cold weather as Buffalo is notorious for, and watching the snowflakes fall from the sky. The excitement of watching the flakes made me forget it was cold and I didn't have a coat on.
Sola Osofisan: What were your first impressions, suddenly seeing white faces all over the place?
Bukie Adetula: Well, because one had been privy to movies and television, newspapers, magazines over the years, one sort of had some idea what America was going to be like. I expected the roads to be slightly better than they were. I expected the people to be able to understand me easily with my accent because after all, I understood them, so I was surprised when I found I had to repeat my questions a couple of times at JFK Airport as I waited to connect to Buffalo on a domestic flight. The food was obviously different, so I didn't dare move near it. I just watched it from afar. People seemed friendly. They seemed very curious. They asked a lot of questions. Here's this young man traveling by himself all the way from Nigeria, never been to the US before, leaving behind his father and his mother and all his siblings.
Sola Osofisan: What was their impression of Nigeria back in those days – and how has that impression changed over the years?
Bukie Adetula: Oh, Nigeria was a country that had a lot of money. There was oil money flowing. There were a lot of Nigerians in the US in various colleges on Federal government scholarships, State government scholarships, various bursary award payments that were being received by students here. The only other country that seemed to be able to compete with Nigerian students in those days was Iran. There was a lot of Iranian oil money also flowing around… a lot of students here on Iranian government scholarships. They used to drive the best cars in those days. They were able to afford the finest looking ladies, they got all the attention. They dressed well.
But we Nigerians then were able to hold our ground. We were perceived as coming from a wealthy country, well taken care of, good upbringing, here to study, here in search of a dream, to capture that dream and take it back to Nigeria to make Nigeria a better place. So, for us, it was all about coming here to get a solid education and then turning around and going home and using that education in a system that we believed had potential to flourish, was growing, was beginning to test the waters of democracy in 1979.
There was optimism. Americans respected us. You didn't have what we now have these days where every corner you turn there's some scheme or some scam, some 419 venture by some individual who decides its time to do things that will bring the country's name down. We didn't have all those then. I'm not saying it didn't exist at all, but it wasn't in the limelight. It was the exception, extreme exception in those days for things like that to happen. We got a lot of respect. Nigerian students were known to do very well in school in those days. We were the best students in the universities.
Sola Osofisan: Has that changed?
Bukie Adetula: Yes and no. And here's what I mean. I think Nigerian students continue to excel in American institutions today. But what is different about today, when you compare it to 1979, is that the number of Nigerians in school in American institutions has reduced drastically. In short, Nigerians don't come back here necessarily in pursuit of an education, but rather are coming here in an effort to escape from home. To run away from home, to run into America and make America home.
In those days, Nigerians were coming here with a specific goal in mind: get a solid education and then let's head back home and let's go and use it. So the number of Nigerians in institutions has reduced drastically. In those days, every major university in the US had a Nigerian Students Association and was represented. The institution I attended then, State University College at Buffalo, we had at the very minimum, 60-70 Nigerian students at any given time. And that was one institution.
So, that is what has changed. We don't have that many Nigerians anymore in educational institutions. They come in here, they come in to pursue the dollar, they want to cut through the short cuts, they want to get straight to the money, and they don't want to pay the dues anymore.
"Nigerians don't come back here necessarily in pursuit of an education, but rather are coming here in an effort to escape from home"
…

Bukie Adetula