Nobody could believe it. That the man who ambled easily into the breakfast lounge of the La Palms Golden Beach was Michel Platini, the same man who said that French football lost its virginity when Olympic-Marseille brushed aside AC Milan in a 1-0 defeat in 1993. African journalists were speechless; the European community cast worshipful glances at him, none seemingly deigning to approach the larger than life image that the legend had cut for himself. Alexandra Klawitter, programme officer of InWent, attached to the International Institute of Journalism, IIJ, said she grew up watching Michel Platini, the mercurial French Captain play in the early 70s.
And indeed, Platini was an idol of sorts to upcoming players. The great French player became the European football iroko when he won the European player of the year award consistently in 1983, 1984 and in 1985 and at once became a dominant force in world soccer in the decades that followed his life. After the 1982 World cup that produced Italy as world Champions, many players left for Italy in droves, just so the same way that African players move to Europe. Platini was among them. While there, he led Juventus to the Italian championship and became top scorer with 18 goals.
With the electricity and fever generated by the African Cup of Nations in Accra, Ghana, it would have been a little odd that the EUFA President himself, with Sepp Blatter, FIFA President, was not in Ghana to see for himself how the battle for the soul of football got under way. Notice that with the exodus of African players from their clubs in Europe, it didn't take too much to guess that Platini had to be there to keep an eye on his African brood, and possibly look out for new talent for Europe.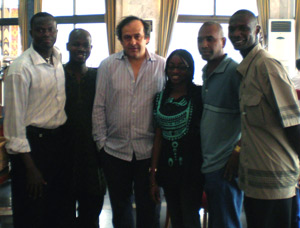 So, when the horde of African journalists at the La Palms besieged the soccer giant for a pose, the smiling Platini obliged!