When he fired that unforgettable shot at Nigeria's first appearance at the World Cup, I was just nine years old; and more than a decade later, I still remember how it was played. My entire family watched the match on a black-and-white television as proud Nigerians. When he took that shot, his face didn't depict timidity, indecision or fear; he was sure of what he was doing. When the ball went past the goalkeeper, he was joyous. Unlike current set of players who will use that moment to reveal stupid messages such as "why always me" on their sweat shirts, he did something unique. He ran into the opponent's net and put his hands in the mesh. He flexed his muscles and with a loud voice that ripped across the entire world, he screamed N-I-G-E-R-I-A. At that particular moment, the entire football world stood still for Nigeria. I was so proud of Nigeria to the extent that tears of joy rolled down my eyes. I'm sure I wasn't the only one that felt that way.
Scoring the first goal for Nigeria at the World Cup wasn't the only reason why Nigerian football lovers loved Rashidi Yekini. The football loving fans of that generation saw Rashidi Yekini as a sign of hope on the field of play. In other words, there was nothing to worry about as long as the dark complexioned man was on the pitch. I remember watching a match and the time was running out. Around the eighty fifth minute, Rashidi Yekini got a short pass at the edge of the opponent's box. Even before he took the shot, we've started jumping in celebration because in such positions, Yekini will not miss. And we were right; he slotted the ball right into the net.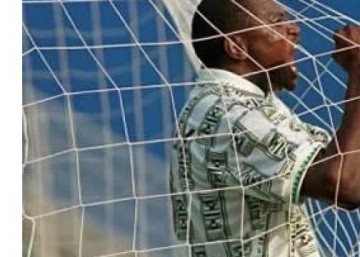 Many might say "he was a striker, what do expect?" the answer to that lies in a fellow compatriot who plays the same wing – The Yak, who blew an empty net chance that is currently sitting on top of World Cup's worst miss list. After the ridiculous miss, Yakubu was full of smiles and the sound of the gum he was chewing could be heard from the noisy South African stadium booming with vuvuzella. Yekini will never do that.
The difference between Rashidi Yekini and current crop of Nigerian footballers is that he loved football, not the business, and connected well with the fans. Unlike our current players whose only reason for playing for Nigeria is to meet up with FIFA requirement that stipulates that every player must play a certain percentage of games for his national team and make extra cash without much stress, Yekini was there for Nigeria all the time he was called upon.
Furthermore, he wasn't just playing football, his impact was well felt. He was the arrowhead of the best Super Eagles team of all time. Goalkeepers tremble when he was with the ball and heading their way, who wouldn't after watching the replay of a match in which his shot tore a goal net apart? He was one of the reasons why Nigeria reigned supreme in Africa and got respected even beyond. Another issue that is worthy of mention concerning Yekini's playing days was the fact that few Nigerians knew the foreign club he played for, this is in no way as a result of non-availability of affordable satellite television, but the fact that we knew him more as Nigerian striker.
It is quite unfortunate he didn't play at a time when the corporate world is pumping money into soccer. By now I'm sure he would have been a Glo ambassador in addition to several other brands. But all they got then was their match allowance. And a good knowledge of Nigeria's football history would attest to the fact footballers were owed several salaries, match bonuses and several other funds that were their legitimate rights. But one game after another, Yekini and the rest of the team were not deterred by these cruelties; instead, they played their hearts out for Nigerians. Hence it wasn't a huge surprise to see mammoth crowds that regularly besiege any stadium in which the Super Eagles was playing. There were instances when people slept over in the stadium in order to get a seat for the match.
Although he was a footballer, the timing of his career put him on the same pedestal of history with the popular Nigerian legends. His star shone more during the harsh military era of the '90s. Those years were characterized with protests, jungle justice, strikes and civil unrests. A sad dark gloom hovered over Nigeria at that time. But we had temporary escape and respite of hope whenever Yekini and the rest of the team were on the pitch. Someone once said that during the time, two things kept him alive – trust in NADECO and the Super Eagles. In other words, Yekini's name should be boldly written in gold for providing Nigerians an escape from the atrocities, woes and hopelessness that characterized the military era.
But like the rest of his team, except a few lucky ones who understood the politics, Rashidi Yekini didn't enjoy the largesse of government. Despite the fact that he was a true legend that won our hearts and the much elusive CAF Player's Award, NFA didn't deem it fit to enlist him on the technical crew of any Nigerian soccer team. This would have improved his standard of living, and would have been a medium for him to share priceless knowledge to the current money crazy bunch of footballers whose style of play doesn't inspire Nigerians.
I know immortalization will be clamored for by a lot of people, I however believe we can do more than that. According to available reports, Rashidi Yekini wasn't a rich man when he died thus putting his family at risk after his demise. This is where well meaning Nigerians are needed. Although you failed to support him with contracts and endorsements, the least you can do is to ensure that his family doesn't wallow in abject poverty. If people like Ibori could cart away billions of naira, taking care of Yekini's kids with an infinitesimal fraction of that isn't too much to ask.
To the current Nigerian government, Yekini's talent proved that rebranding is futile – just a waste of resources since the world will stand still for you if you are doing great. And your name doesn't need to sound "tush" for the world to celebrate you. I can never forget how perfectly the American football commentator called out Yekini's full name after firing shots at the goalpost.
I've been at the same event with lots of Nigerian superstars including footballers. While the feeling was how you will feel when you fraternize with the stars, the sensation was different when I shook Rashidi Yekini's hands few years ago in Ibadan. Even though it was eighteen years ago that he scored in USA, the memories flooded back to my mind. He shook my hands in firm grip and I felt like the nine-year old boy all over again. Tears swelled up in my eyes, but his face lit up in smiles.