After an intense day, in March of 2008, while sitting in a red Ibadan taxi cab waiting to return to my hotel I was brought to the somber realization, by a frustrated but brave young couple who had just been defrauded of 1,000 Naira, that unbeknownst to me, the man whose sign board was only a few yards away from me had begun to use my name as his reference in an advanced fee scam commonly known as a 419 scam. The fraudster who barely knew me had manufactured a fictitious address somewhere in Ikoyi, Lagos to go along with my name. An Ikoyi address was perhaps to make his victims, from whom he extorted 500 Naira for each trip he supposedly made to go ask permission from me to rent out the imaginary property which he supposedly managed for me, less inclined to try or wish to contact me. You can imagine my shock!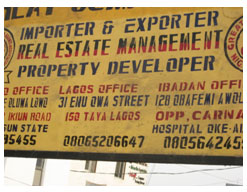 The fraudster who bills himself as Otunba Olayemi Adedeji and his lover cum secretary, Yetunde, were tenants in a building in which I was having some work done and could not have been too much older than my own child! They were not my tenants and I had no business dealings with them. I had met them barely a couple of weeks before this incident under somewhat unpleasant circumstances. Olayemi Adedeji alias "Great" had broken into space that belonged to me which was located directly above the one he was renting and had stolen an entry door and several closet doors. I had had to settle for the return of damaged items since it was obvious that he could not afford to rectify the damage nor was it worth my time and energy to take him through the legal system. It was at this time that he had given me his business card and inquired if I might wish to use his services. I had taken his card and clearly refused his services. Olayemi Adedeji alias "Great" had in fact rented space in the same building through a legitimate real estate management company in Nigeria whose employees are often much less effective in monitoring property they are paid to manage than their advertising and executives lead you to believe.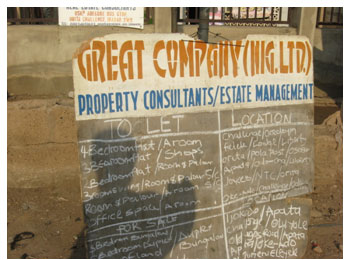 One billboard listing of the properties on display by The 419 Couple

Otunba Olayemi Adedeji alias "Great" and Yetunde run a property management scam. They have printed business cards, application forms and posted billboards that have a listing of spaces for rent and for sale. For anyone who cares to check, you will not find their company registered anywhere. Some of the addresses of property they advertise really do exist while others are fictitious addresses. They look as official as any other small. They are constantly on the lookout for gullible clients to list their property and gullible clients to deposit application fees and other necessary expenses and hopefully rent money for property that they will never have access to.


In shock and anger and with a sense of relief that the "Great" Ibadan Bonnie and Clyde team had not had any access to any of my personal information beyond my name, I carted Yetunde and the young couple who had approached me because they were hoping that I was the one who could give them access to the illusory apartment they were hoping for, off to the police station. Unfortunately, "Great" himself had gone into hiding because, as I later found out, he had a good number of angry clients who were still waiting for the apartments they had paid for and were yet to see. It was Yetunde who was blinded by love who got the frequent curses and occasional physical assault meted out by people who had lost their money in this ongoing scam.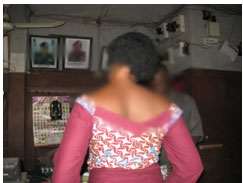 Yetunde (back turned) being booked at Iyaganku Police Station in Ibadan while I waited.
At the police station, still furious that anyone had dared to involve my name in such nonsense and that a trusting young couple of no more that twenty years of age had been defrauded of the little they had, I stood watch while the young couple lodged a formal complaint to the police after I had made my complaint so that they could at least have hope of getting their money back. Yetunde was released upon the premise that she would re- pay the young couple by a police established deadline or would once more face yet another arrest and stay in jail since I insisted that they the young couple should at least get their money returned.
It was during this ordeal at the police station that I learned that Otunba Olayemi Adedeji alias "Great" was a seasoned con man who worked in tandem with Yetunde in his schemes. "Great" who sometimes described Yetunde as his sister, his secretary or his wife as it was convenient for him was no where to be found, but both of them were well known at the Ibadan local police station and frequently came to bail each other out depending on who was in jail at a given time. The Otunba Olayemi Adedeji alias "Great" and Yetunde team, according to the police, have a long list of outstanding cases in the judicial system. The advice from the police was simply to have them evicted. When I asked what could be done to stop these kinds of crimes, their answer carried little hope. 419 Scam artists, much like other people who engage in illegal activities, simply move on to a new location to continue their art of deception and lies.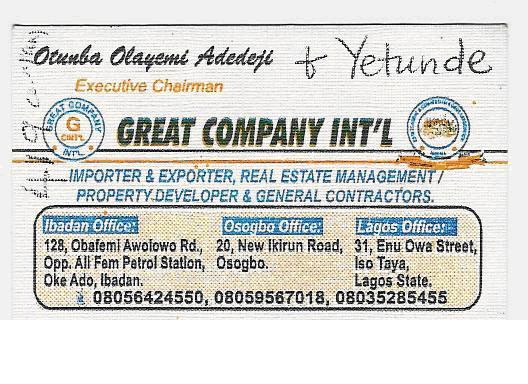 The sign boards and billboards have since been defaced and made unrecognizable and the dribble of previous victims who still show up at the Ibadan building they used as a "den" are given notice that the crooks have been served an eviction notice/ quit notice and have not shown up at the property since I hauled Yetunde off to the police station. The local police in Nigeria seems to have very little to offer in the way of help to those who have lost money to such scams. To those who are angered because they discover that their name is being used for fraudulent purposes (a form of identity theft), take heart, untangle what you can and SHARE YOUR EXPERIENCE with others so that they can be even more aware. Identity fraud is not just about your documents. For those who would find property managers and other use other services, my best advice for all is "Buyer Beware".