Oceanic Bank International PLC has won the 2008 Nigerian Bank of the Year Award. At an impressive awards ceremony organised by The Banker magazine, a subsidiary of the Financial Times of London held on Wednesday, 28th November 2007 at the prestigious Dorchester Hotel, London, Oceanic Bank was adjudged the Nigerian Bank of the Year for the second year running. The bank had earlier won the Nigerian Bank of the Year Award in 2006.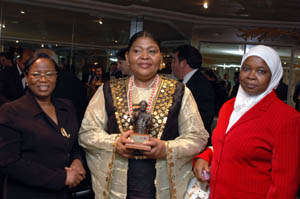 A delighted Dr. Mrs Cecilia Ibru, managing director of the bank who last month won the African Banker of the Year award in America said she was dedicating the award to all the staff of Oceanic Bank. According to her, "I am deeply blessed and honoured to be working with such talented, dedicated and hardworking team, without them, this award will not have been possible". Dr. Mrs. Ibru said that Oceanic Bank is highly committed to delivering value to the Nigerian economy, and to its core stakeholders, "we will not relent in our efforts and will continue to maintain our usual high financial standards that stand us apart from our competitors", Continuing she said that "This award will only spur us on as we continue with our various strategies towards being an African bank to be reckoned with in the international community".
An excited Obaro Ibru, son of Dr. Mrs Ibru who spoke on behalf of the family said that he was pleased with his mother's achievements in the corporate world. "You can see the turnout of the family here today. We are all delighted for her and Oceanic Bank and wish her and Oceanic Bank many more successes in the future".
In his opening speech, Mr Philip Timewell, editor-in-chief of The Banker magazine paid particular tributes to banks from the emerging markets for turning in excellent financial performances when their counterparts in Europe and America were facing serious crises as a result of the recent spate of turbulences in the global financial market. "The banks being recognised and honoured today should feel proud of their superior performance in their respective countries", he said. On the criteria used in deciding the winners, Mr Timewell said that the winners were selected based on a combination of factors mainly market capitalisation, growth, expansion, service delivery and shareholder returns amongst others.
The event was well attended by representatives of banks from over 143 countries which entered the awards. Highlights of the night included the lifetime achievement award given to William Rhodes, a 50 years veteran of Citibank.
Michael Buerk of the BBC who hosted the event had the audience reeling in laughter to his special brand of humour. Amongst those who came out to support Oceanic Bank included members of the Ibru clan led by Olorogun Michael Ibru, also present were the Ibru children – Oboden, Obaro, Ejiro, Osio and Rode. An elated Obaro praised her mum for making Nigeria proud, "She is truly an amazing woman, i am so happy and proud of her and wish her and Oceanic Bank continued success in the future", he said.
Others present included Richard Jory of Structured Products magazine, Bismarck Rewane of Financial Derivatives, Hajia Amina Abdulahi (Group general manger in charge of investments at NNPC), Apostle Hayford Alile (Chairman of Oceanic Bank), Ambassador John Fashanu, Nkosana Moyo (Actis), Chris Udechukwu of BusinessinAfricaevents.com, Obi Emelonye, Ovie Ukiri (Executive Director, Oceanic Bank), Dan & Doris Akpovwa, Francis Okumagba (Executive Director Oceanic Bank) and his brother Albert Okumagba (MD – BGL Securities), Dr. Yemi Ogunbiyi and many more.