"Far too many details in personal memoirs are not even slips of memory but self-serving fiction."
Professor Wole Soyinka, You Must Set Forth at Dawn
I have just finished reading Professor Wole Soyinka's new book, You Must Set Forth at Dawn. My first thought is that it is an important book for various reasons and I would encourage those with an interest in learning about the struggle for the heart and soul of Nigeria, albeit from Soyinka's perspective, to go buy the book and read it. Soyinka has a lot to say in this book and I suspect that he is not finished yet despite this hefty tome (exactly 500 pages, if you count the Acknowledgments page). Age has not slowed The Man down one bit.
You Must Set Forth at Dawn is a dizzying tour de force in many ways; Soyinka has led a very busy and charmed life. There is hardly any road he has not taken and his international passport must be an immigration officer's nightmare. Soyinka is a renaissance man who comes across as extremely comfortable in the company of fine wines, fine women and generally the good life. Despite his travails and they are many, he has been treated well by an adoring world and deservedly so. And boy is he busy! Soyinka manages to situate himself in every major event in Nigeria's troubled history. I mean, this man is everywhere. He was actually at Dodan Barracks the day Gideon Orkar's coup rattled Nigeria; indeed he had met with Nigeria's Dictator Du Jour, Ibrahim Babangida shortly before the coup started. For Soyinka, roads are everywhere and they open up for him and take him everywhere, sometimes to places he has no business being in the first place.
The book is a celebration of Soyinka's indomitable spirit. This was an intimidating display of his power of mental recall from the deep recesses of his memory. Age has not slowed Soyinka's brain cells one bit. Either that or Kongi keeps a detailed journal every day of his life. He seems to remember verbatim whole conversations that happened decades ago. People would be interested in his re-telling of many escapades of his that have attained mythical status – the hijacking of Chief Samuel Ladoke Akintola's speech in place of his at the radio station in Ibadan, his role as emissary in various seminal events in Nigeria, and I might add all over Africa. The book is a fascinating story told chapter after chapter. The language is not as dense as I am used to which is nice. Soyinka's pen is getting gentler in the dusk of his life; one can actually be engaged in the book for the most part.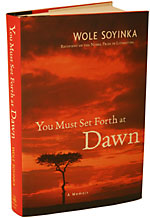 Soyinka's new book
I liked Soyinka's inclusion of maps of Nigeria that were really time stamps of her changes over time beginning with the regions and then the genesis of the states. There is also a useful chronology of important dates in our nation's history. He also narrates his escape from Sani Abacha through Nigeria's borders and there is a chapter on Kenule Saro-Wiwa's murder. My favorite chapter is By the Waters of Babylon, where he tells with the deft use of robust prose and powerful imagery his final escape from Abacha's Gulag (through Nigeria's border with Benin). His description of his friendship with the late Femi Johnson was genuinely moving, a poetic ode to the strong bonds of friendship.
Those with an interest in Nigerian history should read this book. Those with an interest in the January 1966 coup and the ensuing civil war would be extremely interested in Soyinka's narrative in the chapter titled Uncivil Wars: The Third Force and the Midwest Incursion (Strangely, Soyinka dispenses with the use of numbered chapters, making the book a challenge to follow as it wanders all over the roads, waterways and airways of the world).
Soyinka says of the January 15, 1966 coup. "Several of the killings, objectively considered, were not remotely essential to the success of the coup." And then he goes on to say:
"In the West, however, the "wild, wild, West," where the people had inhaled nothing but flames at close quarters for most of the preceding years, the coup was a hand of salvation, and they did not care by what means or how bloodstained it was. Mostly there was jubilation to the South – in the East, West, and Midwest – while the North was plunged into mourning and a deep, visceral distrust of the South, The Eastern Region earned the greatest loathing from the stricken North, since it soon became noticeable that the leadership of the coup was mostly Igbo, the dominant population of the East. In addition, the Eastern political leadership had been left untouched."
Of Biafra's motive for secession he says:
"The discovery of oil in huge reserves in the East, largely in the Niger estuary, played a role, unquestionably, in the propulsion of the Biafran leaders toward secession, but it would be a distortion of history and an attempt to trivialize the trauma that the Igbo had undergone to suggest, as some commentators have tried to do – that it was the lure of the oil wealth that drove them to seek a separate existence. When a people have been subjected to a degree of inhuman violation foe which there is no other word but genocide, they have the right to seek an identity apart from their aggressors'."
He talks about his trip to the heart of Biafra and his subsequent arrest and imprisonment. He talks about meeting Christopher Okigbo in Enugu for the last time before Okigbo perished in the war. He talks of meeting Odumegwu Ojukwu and Victor Banjo. And he talks of Banjo sending him back to the Federal side with a message the crux of which was this:
"Let them understand in the West that I am leading not a Biafran army but an army of liberation, made up not only of Biafrans but of other ethnic groups. Make the governor of the West and other Western leaders understand this. Urge them not to be taken in by any propaganda by the federal government about a Biafran plan to subjugate the rest of the nation, especially the West."
This is heady stuff. It gets even more intriguing. Soyinka talks of his role in the war, his relationship with Banjo, his serving as an emissary between Banjo and Olusegun Obasanjo asking Obasanjo for easy passage for Banjo's troops through his command and into Lagos. He talks about the existence of a "Third Force" of populists and he asserts a solemn pledge in stating Banjo's true motive for his role in the civil war:
"I owe it to the memory of Victor Banjo to contest such dishonorable, even unsoldierly, distortions of his motives and conduct; to testify, above all, that he had not acted to promote Biafran secession or aid Ojukwu's takeover of power in Lagos. If anything, Banjo felt that he himself should take over power, and, confronted with the two discredited combatants who were propelling the nation toward a bloodbath, those of us who were self-described as the Third Force had no doubt whatsoever that Banjo represented the most viable corrective."
In summary Soyinka provides some important and new insights about his relationships with almost every key player (civilian and military) in the experience that has been Nigeria to date. For example, he reveals that after the death of Sani Abacha, the Abubakar Abdulsalami administration wanted him to run for President (yes, of Nigeria, not of a theatre company!). He wisely declined after thinking it over (Soyinka as President! That would have been something!).