The next time you are at it, look into the president's eyes and tell me what you see. In person, in pictures or in paintings, look into his eyes. You most likely will see what I see: eyes that are at once probing, solemn, and faraway; eyes that seem deluged by events, people and history. If you look deeper, you may see the recess of his soul. Farther still, you are likely to come away thinking and or knowing that this is a president lost in thought and lost also in the swirling and turbulence that surrounds him. You see all that and then ask: what is going through the mind of this man, what is going through the mind of President Yar'Adua? There must be mountains on his shoulders.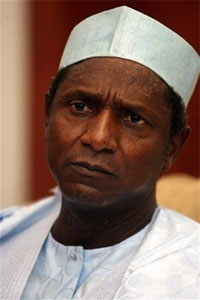 Mr. Yar'Adua is an accidental president. He is a man who, most likely, never dreamt of becoming the chief of state; and even if he did, not under the condition through which he came to the presidency. Not only was he an accidental president, he was also a reluctant one. Some have argued that he was made president by President Olusegun Obasanjo. He became the president; the argument goes, because the former president wanted someone he could puppetize. There are several variations to this theory; in the end though, only Obasanjo and a very small cabal knows what the truth is. The truth, in any matter, is never easy to come by in Nigeria.
On the other spectrum are the religious zealots, and the divine-intervention merchants, who have again and again argued that Yar'Adua's presidency was God's doing. God, they maintained, made it possible for Yar'Adua and Jonathan Goodluck to be where they are today. I personally do not think that God has anything to do with the matter. What influence does God have in Nigeria? Who listens to God in Nigeria? He is powerless when it comes to such matters. But whether it was God or Obasanjo he (Umaru Musa Yar'Adua) became the tool through which many determined and calculating sections of the country intend to carry out their design. Will he in fact become their tool, or will he become the man history happened on but decided to run with the baton in a different direction in the interest of the country?
Will this president become his own man? Whether he will ever come into his own or not is a matter for time and history and posterity. Time is the harbinger of all things. History is the judge of all men. Posterity condemns or absolves. With Yar'Adua, we shall see. For now however, it is necessary to peek into his heart and into his soul with regard to the economic, social, political and cultural state of the nation. What will he do? Where is he taking us? Will he disappoint the enemies of the state or will he disappoint the people? Will he, in the end, bask in the love and affection of the people; or like his predecessor, rot, roast and burn in the scorching breath of the people?
President Yar'Adua's eyes say a lot about him. They say a lot for him. His eyes reflect his anguish and wonderment. His eyes tell of man in a lot of physical and mental anguish. His eyes tell of a man who is feeling overwhelmed. They tell of a man who, when rattled, will strike without compunction. His eyes mirror his soul and his heart; they reflect his thought and his goals. From now on, what is he going to do? What is he going to say? What is he going to say and do about all the men and women who have been clogging his nights and his psyche? What is he going to say and do about events that may overrun him and then make nonsense of his reputation and his presidency? The events are many.
There is the Nigerian-made Niger Delta crisis. There is the unhealthy, non-expanding economy that has not undergone structural transformation in several years. There is the political system that does not provide the much needed rights and responsibilities. There is the growing rift between several power centers, and an ever increasing divide between the rich and the poor and the miserably poor. The domestic problems — institutionally and structural — are many and overwhelming. And then there are external problems like the continental shames in Sudan, Somalia, Niger, Western Sahara, and elsewhere. One cannot separate domestic problems from foreign problems; also, one cannot separate political problems from economic problems. One affects the other; these are all the problems and challenges President Yar'Adua and his team must resolve or mitigate.
Of all the aforesaid challenges, the biggest affront facing the country is issues relating to and revolving around bribery and corruption. For more than three decades, this cancer has been gobbling our collective soul. It contaminated our politics, economy and social system; and it has made nonsense of our national institutions and culture. To fight this disease, the President needs the right man and the right team. In this case, the right man is not Mallam Nuhu Ribadu; the right team is not the existing team in the EFCC building. And so what gives? Well, on the domestic front crystal balls are not needed to make the inevitable public.
In fact the inevitable can be gleaned from the eyes of President Yar'Adua? And here they are: (1) The days of Nuhu Ribadu as the EFCC boss are numbered, the organization may even be dissolved or reconstituted; (2) right around the same time, Chukwuma Soludo will be shown the exit door; (3) former President Obasanjo's wings will be clipped, also, the secret society within the PDP will be disbanded or expelled; (4) whatever agreement this or any other president had with the likes of Odili, Ibori, Tinubu and others will be annulled; (5) Yar'Adua will find ways to compel the National Assembly to kowtow his wishes; and (6) he will demonstrate his brilliance at a high-wired game some believed was invented in the Middle East: "survival strategy." This strategy will help him balance the interest of the North against those of the South and the South-South.
Umaru Musa Yar'Adua: It's as if his soul and his heart reside in his eyes. His eyes convey his thinking; they convey his determination and his vulnerability. His eyes convey his pain and anguish and machinations. Look closer and closer and closer, you will see what I see. You will see the heart and the soul of man who wander and wonders about the challenges and difficulties of running a country like Nigeria. It cannot be easy on him. It cannot be easy dealing with complaints after complaints after complaints from different sections and different ethnic groups in the country. Complaints from men and women who believe they have been wronged. Such must be energy sapping, frustrating and perplexing.
There must be mornings he wakes up but then return to bed wary of the hours ahead. Does he question his decision to accept the position Obasanjo offered? Does he question God? Does he sometimes feel like giving up, pack it in and walk away? Does he curse at all the men and women that have been making his life and his presidency a living hell? I wonder. What does he want us to know about a job and an office that isolates him from reality? What questions and misgiving does he have? What doesn't he see; and what are his eyes and heart not telling him?