I have always been a regular at the yearly Art Stampede of the Committee for Relevant Arts (CORA) in the last nine years. Right from its days at the expansive compound of the moribund, neglected and national shame called the National Museum in Lagos where art and culture enthusiasts will gather under a tree listening to Odia Ofeimum's several impromptu treatise on Nigeria literature to when the energetic Crown Troupe of Africa led by Segun Adefila would perform to a paltry audience of Nigeria's most orphaned sector. Readings, critiques, performances and cultural networking has been the hallmark of CORA's yearly arts and culture meet that has now emerged to become a critical voice and a reference point nationally and internationally in Nigeria literary scene.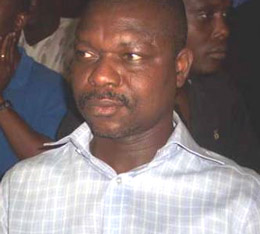 I remember the number of times NEPA, sorry PHCN would seize electricity at the Museum while the organizers of CORA would run helter skelter to make sure the Museum "fits and starts" generator is powered on to sustain the events. It was always a battle between the Museum and CORA. Why it is always a battle I don't know. Not that I suspect any sabotage. But those encounters highlight the gulf between culture practitioners and administrators of culture in Nigeria. Years went by and the event moved away from the premises of the Museum. In those early years, I had observed CORA from a distance as a starry eyed youth eager to make a mark as a freelance journalist and writer but never had the opportunity of meeting the arrow heads of Nigeria's premier cultural event.
I continued to attend this event which of course was the only event in my yearly calendar held every September. As years flew by, a series of articles in the print media had ensured that I had become visible enough to conveniently interact with the two big wigs of CORA who now took me as a younger colleague. But the chance to meet Toyin Akinosho one-on-one finally came in September 2007 after I had secured a residency/scholarship from the Goethe Institut Nigeria to visit Germany on a course.
I had discussed with Jahman Anikulapo and a former director of the Goethe Institut Nigeria and Toyin Akinosho who by now I always refer to as "egbon" to do a regular travelogue during my stay in that Aryan country in the Guardian Nigeria. A brief discussion later with Jahman Anikulapo, the Editor of the Guardian on Sunday led to my filing a series of exciting travelogues on life in Germany and German-Nigeria realities for the Sunday paper. Now who is Toyin Akinosho? This personal reflection is stemmed from my interactions and chats with him at the various Arts and CORA events in the mega city in the recent past.
The first thing that strikes you is his unobtrusive and unassuming nature in the few years I have known him and observing him from a distance and when I finally became an "aburo" (junior brother) having now known him personally. He will saunter into his own event as if he was only invited like many others in the audience. Always clutching a novel, you get the impression that he is always reading one book or the other. So at any event, "egbon" would walk in with a book in tow and insist he must read a page or chapter to the audience.
But is egbon really fifty? I was shocked when I received a text message alerting me to the Art House Forum at the Terra Culture in honour of a man that easily traversed the explosive oily fields of Niger Delta as the publisher of the authoritative Africa Oil and Gas Report and life as an art patron, critic and advocate. Now that was the other surprising side of his life I discovered. How is he able to do these things? From the ornate boardrooms of bourgeoisie oil magnates, publishing an international oil and gas magazine to art forums, stampedes and writing regular opinions in the Guardian?
Just a few days ago, I chanced on a copy of the Africa Oil and Gas Report at the palatial home of a big player in the oil and gas industry in Ikoyi Lagos. It was a past edition of the magazine. The big oil and gas player walked in and told me excitedly that the magazine I was holding is one of the most respected voices in the oil and gas industry in Africa. He then proceeded to show me a library with volumes of the report. Now that was huge compliment from an influential player in Nigeria oil industry that is the sixth largest producer of oil globally.
So I had all the while been interacting without taking notice of the influence Toyin Akonosho wields in this behemoth Nigeria oil and gas industry. But isn't this exactly what he wants? He tries as much as possible to deflect all the trappings of the "big man" from himself. He walks into event unnoticed and greets all and sundry without discrimination. In this age when we youths are so vain to let every little achievements get into our heads, Toyin personal trajectory in humility is worth emulating. In one of the CORA events at the National Theatre, I was shocked when he walked in his usual evasive manner (holding a novel of course). He called out my first name almost in a whisper to offer greetings and asked if the event has started. I protested that I should be asking him instead. After all it was his event.
Now I was surprised, he still remembered my name even after a long spell in between programmes that took twelve months. That is vintage Toyin Akniosho. These days you see pride everywhere and you wonder what will become of today's youth when they are fifty. In the time past, Toyin Akinosho has written opinion pieces in the print media about the directions of the Nigeria Oil industry just as he has written on arts as well. Now what beats me is where he has the energy to keep up with deadlines.
If for example you want to keep track of arts diary and critiques in the culture sector in Nigeria, then you must find the ARTSVILLE in the Sunday Guardian compiled by his Festac News Agency a must read. At another event at the Goethe Institut in Victoria Island mid 2009, Toyin Akinosho "stole" into his own event and before I knew it, he shoved his computer bag into my hands amidst my protestations. I quickly moved the bag with the computer to a secure room upstairs when I realized it could contain sensitive oil and gas "deals" (seriously speaking).
Egbon, as I now fondly call him has the ability to smile and frown at the same time. Ok may be I do not totally understand this phenomenon. But a smile and a deadpan expression on the same face is one I cannot decipher. But when he smiles, it hardly leaves his mouth. More like a "you people are forcing me to laugh" As I conclude this short reflection, it is by no means a complete reflection of a man I have come to respect over the years as a symbol of humility and intellect. Now he would not like this part, it is not in him to "swim" in praises like politicians. As a mark of honour, I have decided to attend all the programmes earmarked for his fiftieth year on earth. But I still can't believe our dear "egbon" is fifty years. Here is wishing you many more years on earth. And may I add that he shouldn't forget to bring a book to read for us at all the events. Happy Birthday egbon.